the new Digital Workstyle to connect the company
with its collaborators and customers.
A project born in 2005, with the slogan "from the workshop to the WEB" that has continued to evolve thanks to the development of mobile and broadband communication infrastructures.
The progressive increased availability of fast connections, both via fixed network (optical fiber) and via mobile network (4G – 5G) has made our WEB applications more efficient and the interest by Geolocalised mode activities has increased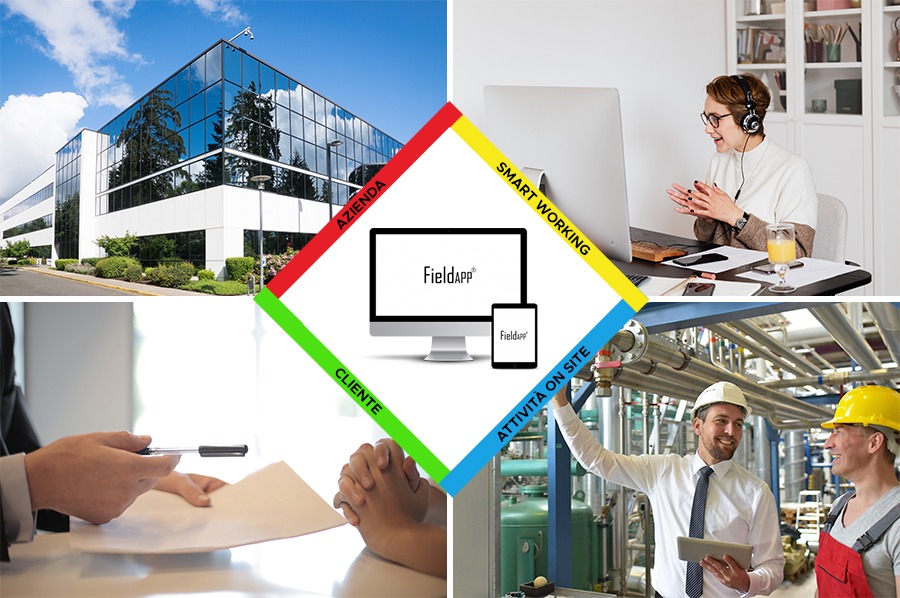 From problem to opportunity
The COVID-19 pandemic has brought out, in a sensitive way, the objective difficulties in organizing and redistributing work outside conventional locations … the walls of the Company.
The use of Smart Working made it possible to make up for office activities carried out from home but left uncovered all the activities performed in work sites.
To combine these four emerging scenarios: office work, remote work, construction site activities and real-time information for the customer, it's necessary not only to reshape the work style of a company. , but also make available adequate communication and interaction tools.
The new work model we will have to deal with immediately has already a name and it's called Hybrid Working and represents the continuous sharing of information between the office, home, work sites and customers.
The RGA PROJECT solutions condensed into the FieldAPP® Application are ready to face this new scenario.
Our Hybrid Working model allows a better distribution and dislocation of resources, reducing maintenance management times and costs.
FieldAPP® is the WEB Package that expresses our Hybrid Working model.
FieldAPP® has been designed to allow maintenance companies to customize the Check Lists of maintenance activities, to adapt them to any type of Equipment / Plant subject to periodic maintenance.
The availability of standard Check Lists already usable in the basic FieldAPP® package makes immediate use of the application directly on the GOOGLE Map, without relinquish the possibility of creating new ones, always tailored to your production needs and / or requests of the Customer.
Simplicity and Power characterize our WEB application for the management of maintenance processes in Geolocalized mode.
Guaranteed accessibility with any device (PC – Tablet – Smartphone);
Geolocation of Equipment / Plants subject to maintenance;
Interactivity of the information (personal data, types, registers, technical data sheets, photographs, ..) necessary for the complete traceability and historicization of maintenance activities;
Sharing information in real time between:


Maintenance operators;
Office of the company providing the service;
Home of employees who work in Smart Remote Working;
Customer receiving maintenance service.

Complete traceability of Field Operators and Intervention Reports signed on site, geolocated and sent directly to the customer, with particular emphasis on activities that have had a negative outcome;
Automatic creation and logging of maintenance registers;
Automatic traceability of any rotations, particularly important for fire extinguishers;
Real-time access to information on the maintenance status of the equipment, also by reading the dynamic QR Codes applied to them.
Contact us and request an offer for your needs without obligation
Stay up to date with our newsletter